Depending upon one's life perspective, retirement may involve a time of uncertainty and fear, or of unparalleled joy. One could suggest that the two most peaceful periods in a person's life are childhood and retirement, both of which see a reduced level of responsibility. Indeed, the more free time people have the more they can put it to good use. Some retirees are having the time of their lives whether they are traveling or staying home, enjoying the peace and quiet. They may use this time to reeducate themselves, get more involved in hobbies and associate with friends and family. The retirement years are definitely a time period in which one can enjoy the finer things in life, free from anxieties of work and child rearing.
The Advantages of Retirement Communities
Retirement communities, unlike nursing homes, allow residents to stay independent and do not offer constant nursing or assisted living attention. Residents are capable of communicating with caregivers, doctors, nurses and other professionals on their own. These retirement communities are built mainly for recreational use, and could be made up of a neighborhood of houses, townhouses or an apartment complex. Residents who live in retirement communities can feel secure and comfortable in a community of their peers. Custodial and nursing care, while not provided by the retirement communities, can be arranged by the individual. Some of these communities will offer special senior features like handrails, pull cords and access to transportation.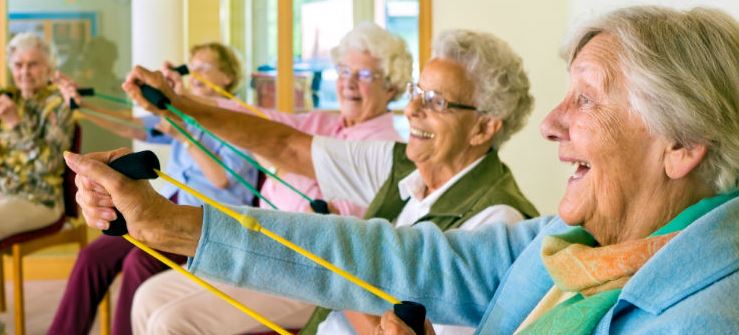 There are also recreational activities provided. These may include entertainment shows, group discussions and games, swimming pools, spas and gym facilities. Depending on the area and the quality of the center, some of these retirement communities may be comparable to a small resort vacation. Last but not least, some retirement communities will provide meals in a community dining area. Recreational activities are one of the primary reasons a retiree would seek out such a community. While a resident may be in good health, without that social atmosphere and a community to call his/her own, life is just not as much fun. Retirement communities make residents feel welcomed and can literally add years to their life, since real happiness brings better health!
How Much Do Retirement Communities Cost?
Retirement communities vary in price. Some low-income apartment complexes may charge only hundreds a month for rent, while other facilities could charge more for their special features. The average cost of retirement communities in Los Angeles is about a $1,000 a month. Additionally, some seniors can be partially covered by Medicaid, leaving a comfortable low sum for the resident (or caretaker) to pay every month. There are also houses and apartments subsidized by HUD (The U.S. Department of Housing and Urban Development). HUD homes are a consideration, particularly if you have low income, however, the waiting period can be long. Residents are sometimes given the option of buying or leasing a property, and the price obviously differs according to region and local market.
Choosing Where to Retire
How does one go about choosing retirement communities? The first consideration is a regional one. Before you can settle on a community, determine where in the country you would be most comfortable. Some retirees prefer to stay near family. Others prefer to go to a state where there is a less expensive standard of living. Choosing where to live is an important decision as it could easily mean contentment or depression for the rest of a person's life!
What are some factors to consider before settling on a region? The first consideration is of course, the price. An individual or a couple must be able to live comfortably within their budget (most likely income from Social Security) and even save up money for special projects. The next issue is a regional one. The climate and weather should be agreeable to you, in terms of hot/cold seasons as well as the possibility for severe weather. Other considerations include the city and town profile, opportunities for continuing education, arts & cultural activities, senior services, as well as nearby hospitals and airports.
Elder Home Finders Can Find Your Community
Whether you are searching for retirement communities on your own or a caretaker looking for a retirement facility for your elderly parent or relative, ElderHomeFinders can help you find just what you're looking for. Personally evaluating every nursing home in the Los Angeles area will take up a lot of your time and money. ElderHomeFinders does this work for you and can match you up with the facility or community that meets your needs. Whether you seek recreational activities, assisted living care or just an affordable community of senior housing, we have just the place you're looking for. This service is free to the consumer, so you have nothing to lose but a lifetime of happiness to gain. Make the retirement years the best ones yet and enjoy life to its fullest in a community you can trust.