What is it like living inside a senior housing facility? Much attention is given to the initial process: the journey from home sweet home to a retirement living facility. Naturally, this process can be painful, confusing and intimidating to a new resident. The first few days in the new senior home will be the most difficult. There is a process of getting used to new surroundings and letting go of past memories in the old house. Even if a resident suffers from mild to extreme Dementia, the mind always understands when a great change in life happens and strong emotions will follow. However, home is where the heart is, and so memories and good feelings can follow a person from house to house, with adequate time.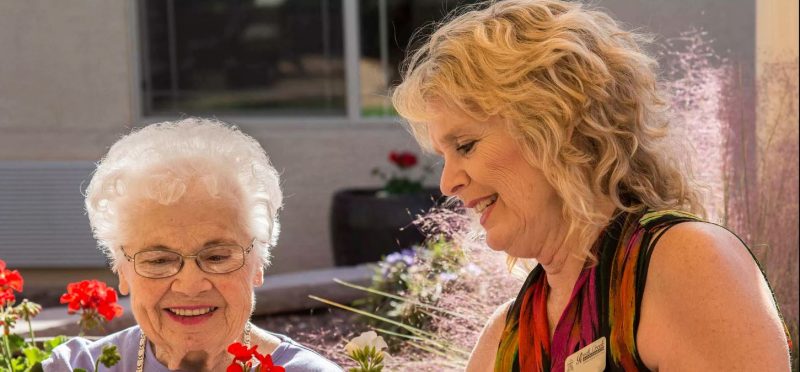 Adjusting To Retirement Living
The quality of the facility, as well as the type of retirement living facility that is chosen, will play an important role in a resident adjusting to a new home. An assisted living facility and a board and care facility both offer residents a degree of independence, and are available for help on request. (A board and care uses a single family house, whereas assisted living usually involves a dormitory or apartment) These retirement living services would be easier to adjust to in the short term since they feature a non-medical and attentive staff as well as recreational activities.
A nursing home would be more difficult to adjust to, especially if the resident has just recently become incapacitated. Nursing homes provided constant monitoring and 24 hour care, including medical assistance. Often times, nursing homes are designed to cater to residents with disabilities or perhaps even individuals suffering from Dementia or Alzheimer's Disease. The worst possible scenario is to transfer a full grown adult into a nursing home – where constant care is expected – but to choose a facility that has a poor staff or shoddy living conditions. It is especially important to choose a nursing home that has an experienced staff of workers that understand retirement living that will make the resident feel at home.
Independent living facilities and continuing care communities are perhaps the easiest type of senior care to choose in terms of comfortable adjustment. Independent living communities (houses or apartments for elders) offer independence and comfortable interaction with other residents. The living quarters is very secure and so adjusting to a new home is usually just a matter of time. Continuing care communities are also ideal, since they offer continuing assistance based on the changing needs of the client.
Making A Facility Look Like A Home
In order to understand this period of adjustment for the new resident, try and put yourself in their place. The thoughts going through the residents' minds are most likely ambivalent; perhaps they wonder if they will feel lonely and if they can make new friends. They may wonder if their needs (medical and routine) will be taken care of. They may have regrets about leaving their former home and feel reserved about entering a new one. They may miss their family members or worry excessively about being a financial or personal burden. After an initial period of grief or confusion, a resident will begin to accept his or her new surroundings.
This is where quality is paramount – a retirement living center should offer residents a secure home in all respects. The facility should be clean and well managed, and the staff should be courteous. Beyond these necessities, there should be a strong focus on recreational activities. The best facilities cater their programs to the needs of each resident. Some residents might enjoy group gatherings, whereas others will appreciate more one on one attention. The best retirement living communities feature volunteer prospects, educational programs, social clubs, transportation prospects, support groups and many other "things to do." It is human to remain active – no a matter a person's limitations, their mind craves stimulation and adventure!
How can you be sure that your chosen retirement living facility will provide a homely environment for your family member. You can't be sure on your own – unless you personally scout out all of the nursing and assisted living facilities in Los Angeles. You can employ the use of a search service that helps consumers who need professional assistance in locating a retirement living facility with a specific criteria. All of your loved ones' needs will be taken into account, from quality retirement living centers to recreational activities and of course, an affordable budget. Some of these services are free to the consumer. So, take your time and find the right referral service to locate the best retirement living in the Los Angeles area. You will feel secure in making the right decision for the comfort of your loved one.
Article Source: http://EzineArticles.com/582002