Los Angeles is a popular destination for retirees looking to settle into Low Income-Affordable communities. An Low Income-Affordable community is ideal for seniors who want to maintain independence while having professional assistance on-hand to help with everyday tasks such as medication management or bathing.
Los Angeles Assisted Living Prices:
1 bedroom options with pricing that starts from $722 to $722 at Grand Plaza Senior Living
Studio apartments start at $895 at Stovall Terrace Apartments
1 bedroom options with pricing that starts from $956 to $1,152 at Coronel Village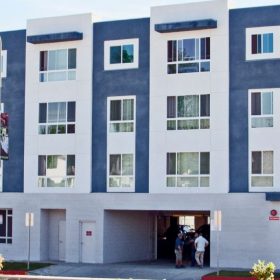 The Grand Plaza Senior Living apartment is located in Los Angeles at 601 N Grand Ave Los Angeles, 90012. Listed below is a short description on this Senior assisted living Los Angeles apartment: Grand Plaza Senior Apartments is designed especially for active seniors looking for a welcoming home in a dynamic community in the heart of Los Angeles. Located between downtown and Chavez Ravine, Grand Plaza Senior Apartments puts you at the center of everything, from cultural events at the Music Center and Downtown Public Library to sporting events at Dodger Stadium and the Staples Center, to a wide range of local churches and restaurants. On site, residents enjoy comfortable, fully appointed apartments, as well as a spacious community room, a beautiful lobby, and a landscaped central courtyard. A range of weekly activities allows everyone to socialize and entertain in a variety of settings.
Stovall Terrace Apartments assisted living is located in Los Angeles at Stovall Terrace Apartments 4075 S Figueroa St Los Angeles, CA 90037. Here is a description of the property: At Stovall Terrace in Los Angeles, CA, you've discovered your new place. The 4075 S Figueroa St location in Los Angeles's Vermont Harbor neighborhood is an ideal place for residents. The team of leasing professionals will assist you in finding your new apartment. Contact us or drop by to check the current floorplan availability today and find your new home at Stovall Terrace.
Coronel Village Senior Apartments are located in Los Angeles at: 935 S Boyle Ave Los Angeles, 90023. We have a brief description of the place: Experience your new place at Coronel Village in Los Angeles, CA. The location in Los Angeles's Boyle Heights area is an ideal place for residents. Compare 1 to 2 bedroom apartment floorplan options. Contact us or stop by today. Explore your new apartment at Coronel Village. Our location has so much to offer our residents. Come for a visit to explore our available floorplan options. This community offers you a wide selection of amenities and features. These include: washers and dryers, a game room, and more. Contact us to schedule a tour today and make your move to Coronel Village.
Hollywoodland Apts retirement living in Los Angeles is located at: 5169 Marathon St, Los Angeles, CA 90038. We have a brief description of the apartment building: Hollywoodland Apts provides Retirement Home, Low Income-Affordable to seniors in Los Angeles, CA. This senior care facility is located at 5169 Marathon St. You can find out where Los Angeles is located with the map of Los Angeles, CA below. Look for the red pin, and see other nearby communities that are marked with yellow pins when they are available. Other than these facts, we can't really say much about this care provider, but we can tell you more about the types of senior care that Hollywoodland Apts is said to provide.
While cheap is not always the best, sometimes we have no choice or do we. Call Bobbie and get the facts on what you can afford 310-699-3000