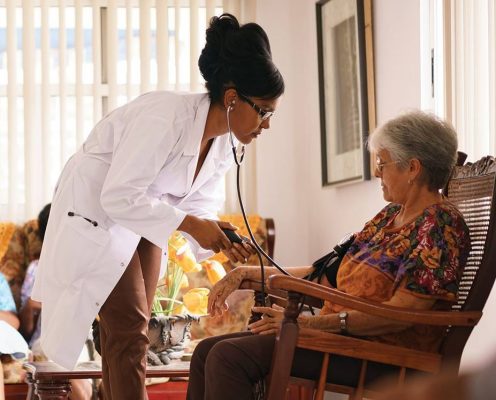 While cleanliness and courteous staff are important criteria for evaluating a retirement home, there is more to consider before making your choice. Human beings require constant stimulation, with mental and physical exercise. The curiosity and zest for life a person naturally feels does not go away with age. Rather, a lack of excitement and even depression can set in because of inactivity. If a resident feels like a burden to the family and remains bored in his/her room all day, then that is hardly a life worth living! On the contrary, activity stimulates the mind and body and leads to happiness, better health and a retirement that is actually enjoyable. When choosing a senior living facility, make sure that the facility provides the therapy and activities that are healthy for its residents.
Senior Living and Therapy
Some senior living homes, particularly nursing homes and Alzheimer's care facilities, specialize in therapy that will help rehabilitate their residents. Residents may suffer from Dementia, a disability, or require constant nursing care. Obviously, Alzheimer's disease or terminal illnesses that require Hospice care cannot be cured. However, therapy can still help to relieve some of the symptoms, and in other cases, therapy may help rehabilitate certain conditions.
For example, reality orientation therapy helps residents who suffer from Dementia or general disorientation. Sometimes residents suffering from these disabilities may forget where they are, who they are or what year it is. Not paying attention to the resident can cause him or her a great deal of stress. Hence, some senior living homes start special programs to help the resident re-learn various things they may not remember. The program may involve the staff workers, the families of the resident and other friends. Therapy sessions may involve group activities as well as individual talks, and such information as names, places and time can be re-learned.
Re-motivation therapy involves motivating residents who, although they are not disoriented, have lost a certain zest for life and are not remaining active. A coordinator can help the resident by focusing their attention on simple daily activities. Eventually, group meetings may be organized which sees a high level of interactivity with residents, in which discussion and reading may be the objective. This works well to keep residents active and to feel like part of a community.
Occupational therapy involves working with a resident's disability and can treat every day physical problems, impairments or emotional disorders. Therapists help residents to set goals, particularly in living independently, preventing disability, maintaining health, and also in improving concentration and problem solving.
Volunteer Work and other Senior Services
Volunteer services can also help to build up the community and to assist elderly residents. Some volunteers have specialized skills, whereas others are simply taking an interest in their fellow human beings. While group activities are fun, residents appreciate one-on-one attention and volunteer senior services is a great way to introduce new friends. Volunteers are supervised and trained according to the nursing home's agenda so that the resident's safety is always a priority.
If a nursing home or assisted living facility has an activity coordinator then this is a good sign, as it shows a dedication to keeping residents involved and active. An activity coordinator may organize:
Senior Living Activities
1. Birthday parties and holiday celebrations.
2. Musical events including concerts and sing along.
3. Games, whether it is Bingo, card games and even tournaments and contests.
4. Outdoor activities, such as gardening or cook outs, to let residents get reacquainted with nature.
5. Physical fitness, including activities for the disabled.
6. Discussion groups, newsletters (with works published by residents) and books.
7. Religious services, which can do much to strengthen residents and their families even after this major change.
Choosing the Right Senior Living Facility
If you are searching for a quality senior living facility, then don't take chances with your loved one's future! Make sure beforehand that the retirement home of your choice has the services that really matter. A good senior living facility will help the resident to feel active, comfortable and part of a community – what retirement should feel like! If you need help in searching for a retirement home then let ElderHomeFinders help. ElderHomeFinders reviews nursing homes and assisted living facilities according to the criteria that really matter to consumers: cleanliness, professional staff, social activities and budget. Our website can help you find the best senior living home for your loved ones. We also know that every dollar counts when having to pay for your parents' care. Therefore, we provide our services free to the consumer!
A good senior living facility can make all the difference between "waiting to die" and living happily, enjoying the gift of life for many years to come. We can help you find that special home.