Renaissance poet John Donne once commented that "no man is an island." We all took this to mean that people are not isolated from each other, rather, all of humankind is connected. Indeed, as we grow older, in adulthood and into our Golden years, we realize that not only do we need other people, we actually enjoy interacting with other people. Human interaction is a basic need and all the more important in the retirement years. When we need somebody that doesn't necessarily put us into a position of weakness. Of course, through pure instinct anyone could probably survive on their own for a limited time. However, sometimes we need the help of others to provide assistance in finding the right senior services to be fully healthy and happy in life. That is the kind of life that is worth living!
Everybody needs somebody – from nursing home residents who need the company of others, to aging parents that need their adult children to find full time care for them, and of course, adult children who need someone to help them find the best senior services in the area.
Senior Services for the Elderly in Retirement Living in Los Angeles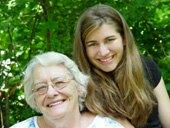 Residents of assisted living facilities or nursing homes do require some senior services, both in medical and living assistance, as well as recreation. In assisted living centers, these services involve daily assistance, such as in bathing, dressing, grooming, housekeeping and laundry, meals, transportation and group activities. Board and care facilities also provide housekeeping and meals, while continuing care communities provide more individual attention for a long period of time. Independent living communities have senior services that are usually limited to recreation and emergency assistance.
Nursing homes and Alzheimer's facilities have special senior services, which cater to dependent and disabled residents. Nursing homes have twenty-four hour care in daily living, as well as registered nurses on hand for assistance with medical problems. In addition to housekeeping, grooming and bathing and meals, nursing homes can also provide assistance with medication, transportation and special rehabilitative programs. Alzheimer's facilities are like nursing homes or assisted living centers but provide special treatment for residents suffering from Dementia symptoms.
Senior Services for Your Home
There are also senior services for residents of their own home, whether it is a home in an independent living community, a continuing care facility, or simply a privately owned home that is requesting caretaker assistance. In these cases, workers drive out to the selected location and provide living assistance to someone who can live alone, but still needs special help with meals, grooming or other situations. In these cases, the resident may be able to afford these senior services on his own, or it may be paid for by the adult children. Every good son or daughter wants to provide a happy home for their aging parent but may be limited in time and ability. Hiring traveling senior services to take care of the resident in his own home is a nice compromise if you can afford it and if the resident can comfortably live alone for longer periods of time.
What are some senior services that can help? There are services that concentrate solely on meals and deliver food to homebound adults over a certain age who have a hard time with food preparation. These meals are nutritious and can be custom designed for special diets. Volunteers deliver the meals to the front door and can provide up to two meals a day, seven days a week. These services help the resident to maintain a feeling of independence. There are also friendship centers for socializing, assistance programs for personal care (bathing, grooming, etc) private nursing, homemaking and laundry care, and respite care. There are also organizations set up to handle problems with electricity and to help residents with transportation needs.